Marziyeh Emadi / Sina Saadat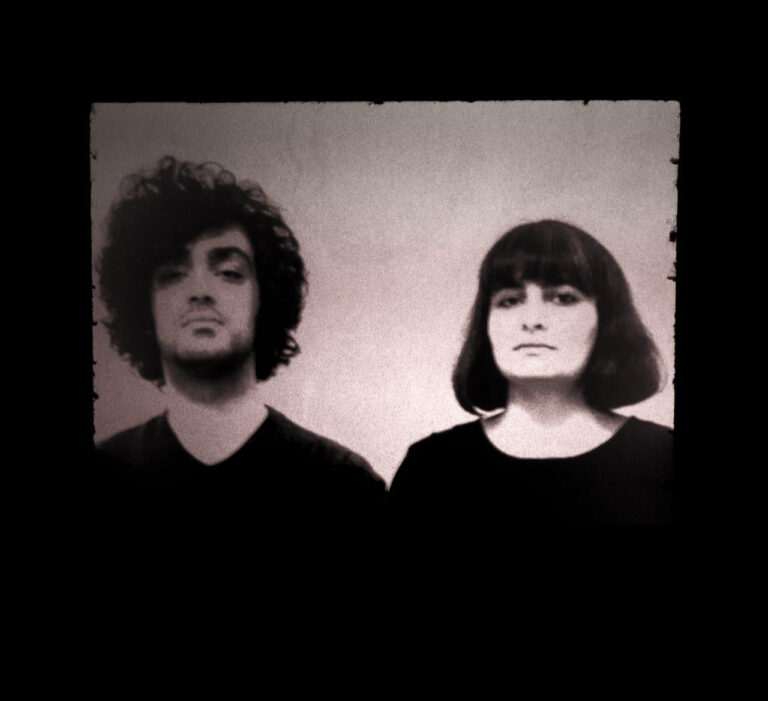 Marzieh Emadi, Vienna-based Artist, was born in Iran in 1986.
Sina Saadat, Vienna-based Artist, was born in Iran in 1988.
Marzieh Emadi & Sina Saadat are an artist couple. Both obtained their Painting Bachelor's degrees in Iran and went on to further their studies in Video and Video Installation. Their artistic collaboration began in 2018, mainly focusing on video art, exploring the boundary between reality and dream through experimental and surrealistic approaches.
In 2020, their artistic direction took a new turn as they delved into archival materials, emphasizing the process of collecting and representing. Through their innovative experiments, they explore the transformative power within this process, affecting the images, concepts, and narratives.
---
Film Festivals, Screenings, Exhibitions:
2022 Group exhibition "Grounded Currents",
Video Installations "Rope Walker", "Cosmetic" &
"There is, indeed, the unspeakable", Verksmiðjan á Hjalteyri, Iceland
2021-22 Experimental Animation Film "There is, indeed, the unspeakable,"
Diagonale, Trickywomen, Vienna shorts, Oberhausen, Exground
Filmfest 35 Wiesbaden, NFC 50th Edition Montreal Kanada,
Film Fest Dresden, Trickfilm-Festival Stuttgart.
2021-22 Video Art, Amateurinnen Project, "Site"
Film museum Vienna, EMAF 2022 Ösnabrück Germany,
Rec Forward Nice France
2020 Parallel Vienna, Video Arts "Renderable Mental Imagery" & "Ham"
2019 Parallel Vienna _ Messe Wien, Video installation "Rope Walker
The Artists explore the significant role of social media in documenting and disseminating the stories of the ongoing Iranian revolution. Told through the perspectives of courageous protesters who filmed the uprising, the videos delve into the interconnectedness between personal narratives, social media, and power dynamics during times of unrest.
As the numerous footage unfolds, we follow the protagonists' struggle as they fearlessly record the unfolding events of the revolution. Their cameras become witnesses to the struggles, triumphs, and tragedies of the people fighting for change. Through their lenses, we witness the power of social media platforms in revealing untold stories that may otherwise be silenced or misrepresented.
The videos highlight the immense risks protesters take in documenting the revolution, as they put their lives in danger to capture raw and unfiltered footage of the unfolding events. The narrative exposes the perils faced by those who dare to defy oppressive regimes, shedding light on the often unseen sacrifices made by individuals in the face of injustice.
After streaming the footage on different platforms, the media's gaze, influenced by political agendas and power dynamics, has the power to shape the narratives we consume. In the case of the current revolution in Iran, the media's portrayal can be manipulated, fragmented, or even contrary to reality.
Totalitarian regimes aim to monopolize the narrative surrounding any opposition or uprising, and the Islamic Republic in Iran is no exception. By restricting internet access within the country and attempting to influence external media outlets, the regime seeks to distort reality and silence dissent.
As conscious consumers of information, it is imperative to acknowledge the plurality of existing narratives. Media outlets, driven by specific political agendas, may selectively present aspects of events while disregarding others. The resulting narratives may not always reflect the complete truth, perpetuating biases and shaping public perception.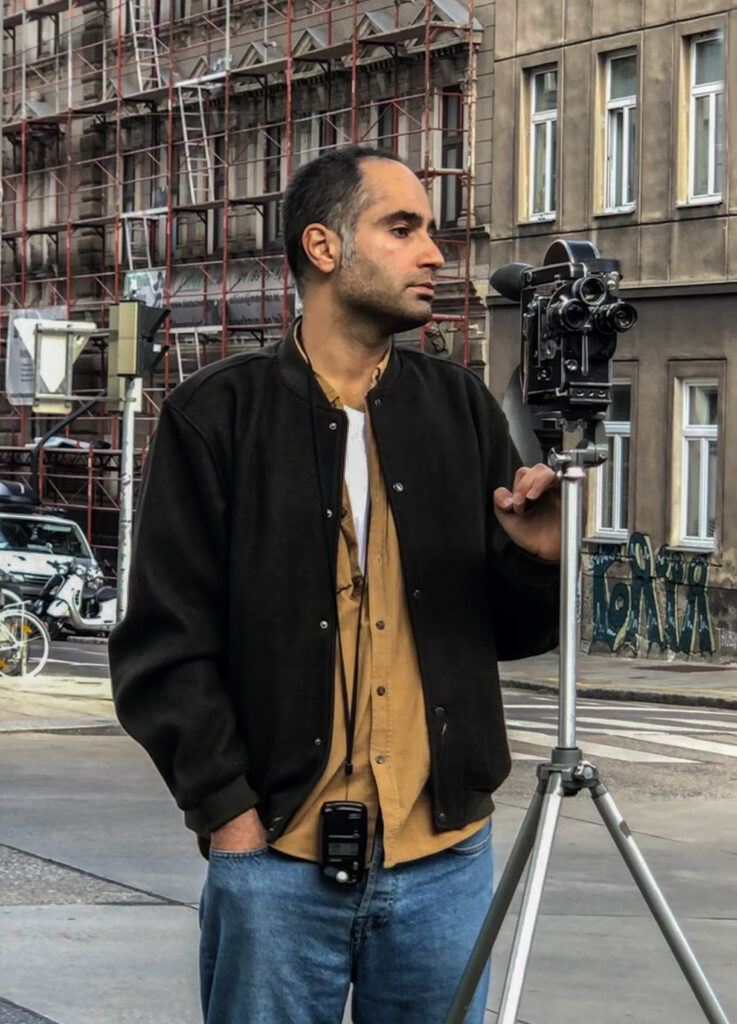 Arash Lorestani was born in 1985 in Iran. He got educated at photo school in 2011 and continued his expertise in documentary film school till 2013 in Isfahan. Since 2017 he is studying at the academy of fine arts Vienna in video and video installation.
In recent years he has been focusing on documentary film making. photography,video art and animation.
THIS JOURNALISTIC AND DOCUMENTARY PHOTO SERIES PROVIDES A PORTRAYAL OF THE IRANIAN DIASPORAPROTESTS THAT TOOK PLACE IN AUSTRIA. THESE PROTESTS SERVED AS A PLATFORM FOR IRANIANS LIVINGABROAD TO SHED LIGHT ON THE HUMAN RIGHTS VIOLATIONS AND EXPRESS THEIR SUPPORT FOR THEIR FELLOWCOMPATRIOTS BACK IN IRAN, WHO HAVE BEEN COURAGEOUSLY SPEAKING OUT AGAINST THE OPPRESSIVETHEOCRATIC REGIME.
I HAD THE PRIVILEGE OF BEING AN EYEWITNESS TO THE RESOUNDING SCENES OF THOUSANDS OF IRANIANSFLOODING THE STREETS IN A REMARKABLE DISPLAY OF UNITY AND DETERMINATION.
THEIR VOICES UNITED IN CHANTS OF "WOMAN, LIFE, FREEDOM," ECHOING THROUGH THE DEMONSTRATIONS.
THE MEDIA, BOTH WITHIN AND BEYOND IRAN, IS CONTROLLED BY A SELECT FEW INFLUENCED BY PERSONALPREFERENCES AND POLITICAL AUTHORITIES. THIS LEADS TO A SUBJECTIVE APPROACH IN SELECTING ANDPRESENTING NEWS AND NARRATIVES. MEDIA CAN MANIPULATE STORIES THROUGH EDITING AND CENSORSHIP,AND GOVERNMENTS OFTEN MANIPULATE SOCIAL MEDIA NARRATIVES.
AS A PHOTOGRAPHER, MY GOAL WAS TO CAPTURE THE ESSENCE OF THIS HISTORIC MOMENT DIRECTLY,WITHOUT ANY EXTERNAL INFLUENCES OR INTERMEDIARIES ALTERING THE AUTHENTICITY OF THE CAPTUREDIMAGES. I AIMED TO DO THIS WITH HONESTY AND RESPECT FOR THE PEOPLE WHO STOOD FOR THEIR BELIEFS,DEMANDING JUSTICE, FREEDOM, AND AN END TO THE ISLAMIC REGIME IN IRAN.
THIS RALLYING CRY EMBODIED THE CORE VALUES OF THE PROTEST MOVEMENT, HIGHLIGHTING THE URGENTNEED FOR GENDER EQUALITY, RESPECT FOR HUMAN LIFE, AND THE QUEST FOR FREEDOM FROM OPPRESSION.
THROUGH THESE VISUALS, I HOPE TO RAISE AWARENESS ABOUT THEIR CAUSE TO A BROADER AUDIENCE,SHEDDING LIGHT ON THE IRANIAN DIASPORA'S EFFORTS TO ADDRESS HUMAN RIGHTS VIOLATIONS ANDADVOCATE FOR JUSTICE, FREEDOM, AND GENDER EQUALITY BOTH WITHIN AND OUTSIDE IRAN.